The Antminer ASIC mining hardware series – proudly designed and manufactured by Bitmain – has established itself as household name in the blockchain community. Launched in 2013, the Antminer brand signifies leading technical specifications and excellence in product quality. 

Antminers, with superior performance and power efficiency, lead the blockchain mining industry and serve Bitmain customers globally.
Hashrate: 13.5TH/s        
Weight: 8kg        
Shipping in 7 working days after fully paid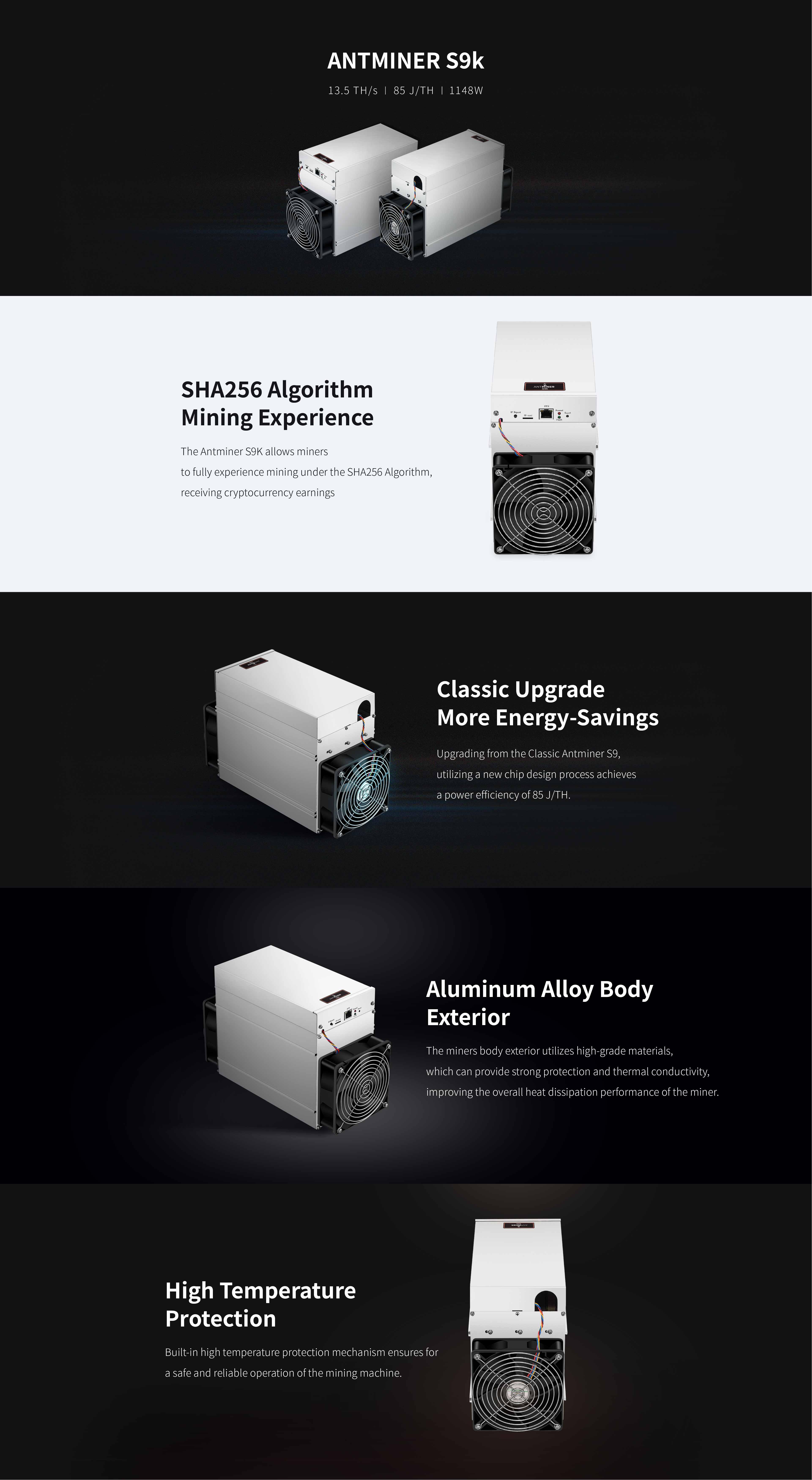 Specification
Product Glance 
Value 
Version
Model No.
Crypto Algorithm/Coins 
S9k
120-K
SHA256/BTC/BCH 
Hashrate, TH/s 
13.50
Reference power on wall, Watt 
1148
Reference power efficiency on wall @25°C, J/TH 
85.00
Adapted AC/DC output requirement, Watt/ Volt 
1389 / 12.00 
 
 
 
 
Detailed Characteristics 
Value 
Min 
Typ 
Max 
Hashrate & Power  
 
Hashrate, TH/s 
  
13.50
13.95
Power efficiency on wall @25°C, J/TH(1-1) 
85.00
 
90.95
Power efficiency on wall @40°C, J/TH(1-2) 
90.07
 
96.37
Reference power on wall, Watt (1-3) 
1148
 
1344
DC input voltage range, Volt (1-4) 
11.60
12.00
13.00
DC input current range, Amp (1-5) 
 
95.7
115.9
Adapted AC/DC output power requirement, Watt (1-6) 
1250
1389
 
Hardware Configuration 
 
Quantity of hash chips  
180
Quantity of hash boards 
3
Networking connection mode 
RJ45 ethernet 10/100M 
Miner Size (Length*Width*Height, w/o package), mm(2-1) 
298.0*129.6*187.5/321.3*129.
6*200.0 
Net weight, kg(2-2) 
 3.95/4.50 
Noise, dBA @25°C (2-3) 
 
 
76
Environment Requirements 
 
Operation temperature,°C 
0
25
40
Storage temperature,°C 
-40
25
85
Operation humidity, RH 
5%
  
95%
Notes: 
(1-1) Refers PSU power conversion efficiency of 93%
(1-2) Refers PSU power conversion efficiency of 93%
(1-3) Min condition: 25℃, min J/TH, typical hashrate      
        Max condition: 40℃, max J/TH, max hashrate 
        Refers PSU power conversion efficiency of 93% 
(1-4) Caution: Wrong input voltage may probably cause miner damaged
(1-5) Typ condition: min reference power, typical DC input voltage      
         Max condition: max reference power, min DC input voltage
(1-6) Min condition: 40℃, max J/TH, max hashrate,
        PSU output power should be no less than the min value to make sure mining stable.
        Typical condition: (typical power) = (min power)/90%, leave power output margin for PSU.  
        Caution: It is strongly recommended that using typical power can make sure your miner can work
        well. You can use one PSU to power multiple boards. Do not attempt to power one board with
        more than one PSU. All PCI-E ports are required to plug in while powering up the board.
(2-1) Domestic and international version.  
(2-2) Domestic and international version.
(2-3) Max condition: Fan is under max RPM(rotation per minute). 
 Notes
1. Power consumption figures will vary with your PSU's efficiency, the ambient operating temperature and the accuracy of the power meter.
2. Do not connect more than one PSU to the same hashing board!
3. Please select correct address for shipping before you submit your order. For this batch, shipping address cannot be changed once the order is submitted. 
4. For the shipments to US, according to the NY ruling N297495, mining machine is classified under 8543.70.9960 which contains a 2.6% tax and an additional 25% import duty in accordance with the relevant Sino-US terms and conditions.
5. For German shipments, please be aware that we have numerous German customers met customs clearance problems when shipments arranged via DHL. You may wish to consider this information before shipping carrier is determined. In case of any customs delay or shipment return due to DHL shipping, Bitmain will not be held liable.
6. Please click here to refer to the all certificates of the products.Please research on your local custom requirements before purchasing from us. In the case of any custom delay or shipment return due to the lack of certification, Bitcoin.com will not be held liable.
7. The pictures shown below are for reference only, the final shipment version shall prevail.
Warranty
1. All sales are final. No refunds will be granted. Defective miners can be repaired for free if they fall under the Bitmain warranty policy. After the warranty period, machines can be repaired at the cost of parts and labor.
2. The following events will void the warranty:
     a. Customer removes/replaces any components by himself without receiving permission from Bitmain first;
     b. Damage caused by poor power supply, lightning or voltage surges;
     c. Burnt parts on hash boards or chips;
     d. Miner/boards/components damage due to water immersion or corrosion due to wet environment.